It's been a while, I know and a lot of things have happened. Let's see if I can still make a sensible recollection of my life for the past year.
Trend Micro
In November 2011, our team received an unfortunate news about a drastic organizational change that would directly affect each one of us. Our then boss, Quiel, will be handling projects and will no longer have any direct reportees while the technical team manager, Alexie, will be the one to handle our team, the content team, effective first working day of January 2012. To make matters worse, Alexie and Quiel will be reporting directly to "Jackie Lou" (not her real name), who we (my teammates and I) think does not add any value to our team/organization and who is an ineffective project manager, who more often than not does not understand what is being discussed in a meeting and gets lost in any discussion because she may be thinking of Korea or whatever shining thing she saw earlier. She also doesn't seem to remember anything you've discussed from a day ago and doesn't seem to be reading (or understanding) her emails. I think I've established enough how we don't like her, well at least professionally. Personally, I'd rather not have her as a friend, but some say she's nice. Good for her.
The re-org was done mid-project, a major project that Quiel did not want to do because we know it will flop. But the bosses insisted and Jackie Lou didn't listen to us, so we had no choice but to proceed. Then the inevitable happened, it flopped. And they blamed us. The Queen B, Jackie Lou's bestfriend and apparently the director to whom Jackie was directly reporting (and the one who appointed her as Q & A's boss) held a meeting and blamed us. Queen B wasn't expecting what happened next--we fought back. We also raised our voices, literally, to her dismay that she mellowed before the meeting ended. She even tried to appease us by asking Jackie to talk to each one of us to know how we're doing and what we thought about that horrible meeting. The 1-on-1 didn't change anything. We were outraged. The resignation decision didn't happen that time though, but it definitely started everything. It was February.
From then on, we knew, I knew, things will never get any better. I started updating my resume and started looking for opportunities outside Trend Micro albeit not as seriously as my other teammates. The thing with being at ease with your boss is that you feel starting anew with a different boss is too exhausting. And I felt that way. My baby projects were given to new members of the team who my new boss hired and I felt, WTF? To me, my new boss was trying to prove something to management that he didn't want to accept suggestions from us. When I talked to him, he'd say yes and pretend he agreed with me, but when he presented the output, it would still be his all ideas in it. I know he has the liberty to do that coz he's the boss, but hey, mine was better! Haha. But that happened several times. That's when I realized it was time for me to move on.
I submitted my resume to all sorts of organizations I was interested to move into, including some government offices. The ones that pushed through were a company in Makati and MicroSourcing in Eastwood. Practically, I went for MicroSourcing because Eastwood is 2 hours nearer than Makati. The salary package was good so I accepted the offer. I wasn't very ready for a BPO, but I was too eager to leave Trend Micro. I resigned from TM on June 8, 2012 and started with MS on June 18. 10 days in between jobs - not enough!
(
Read more...
Collapse
)
Current Mood:

cheerful
My new job is something that I know I am good at, but the setting and the environment are a whole lot different from what I have been used to, and that is where the struggle comes in. It makes my new life in a BPO tough. So when I receive even the smallest compliment from my bosses, I celebrate knowing that I am doing okay despite everything. Today, my boss told me this:
"Thank you for always doing such a great job, and [for] being on top of everything. It makes my life a lot easier knowing that you're in control."
That small note is enough to make my week a good one. My heart is smiling, I can feel it.
This is me when I was around 1-2 years old. I got big eyes and forehead. Lol. Ogie said this is my Aiza look.
Ogie and his cousin Celestina during a Flores de Mayo celebration in Mindoro some long time ago. I think he's about seven in this photo. I find this really funny because Ogie's face and ears didn't change from when this photo was taken until now. He just grew older and, well, bigger. But the features are all original and he can still do that look now. haha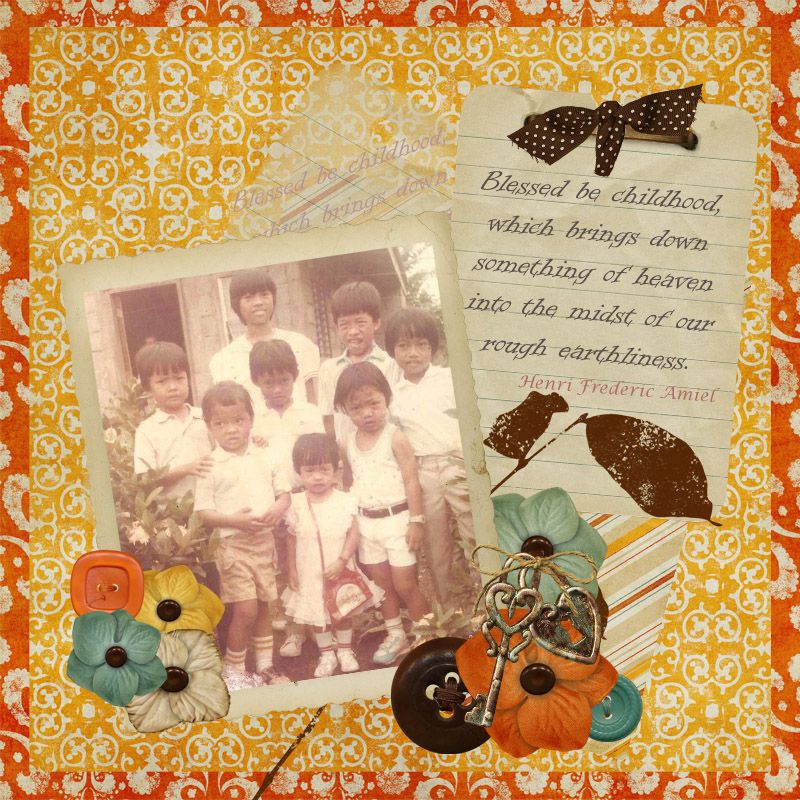 Me and my cousins when we were all tiny and maybe cute! I'm the smallest one with my red patent bag. My golly! Look at my bangs and eyebags! hahaha. Why did I have eyebags anyway?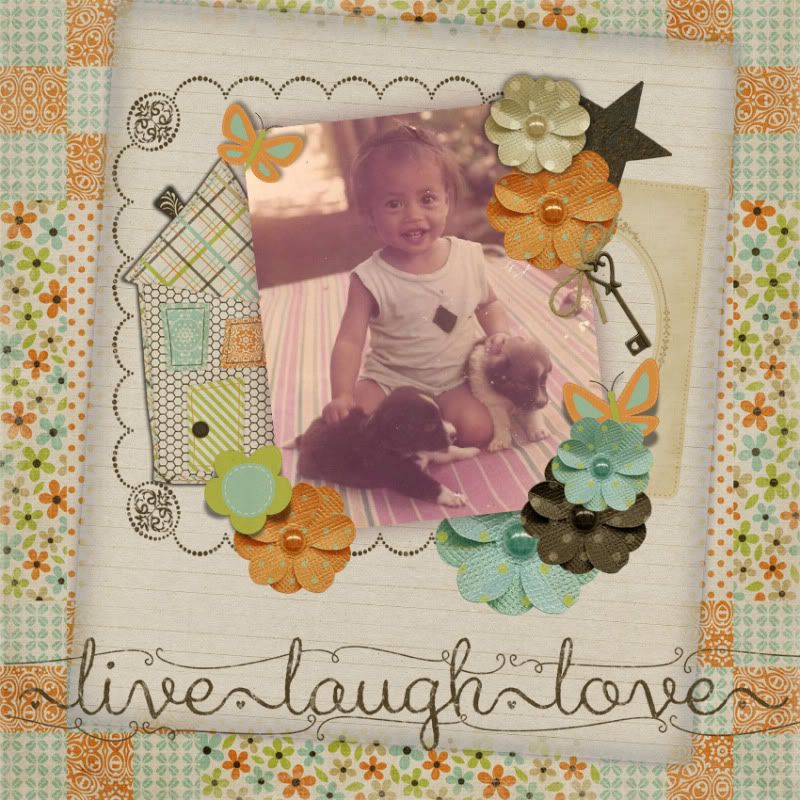 Last for this "down the memory lane" series is this photo of me with two cute puppies on my folding bed. I can no longer remember the puppies, but the folding bed --- I used it for my afternoon naps until I was old enough, maybe elementary.


Oh how time flies so fast! About half a year from now, I'll be turning 30 already. I got some six more months to enjoy my twenties! I don't even know how exactly I should enjoy my 20s. Oh well. And before I forget, it's only about two-and-a-half months before Christmas. Have you written your Christmas gift list yet? I haven't done mine. We have a biggy project at hand (hopefully it will push through), and if it happens, I might not be able to go full blast on Christmas gifts this year. Happy weekend!
More scrapbook layouts, but this time, using childhood photos. Next time we go home to Infanta or Mindoro, I will dig out old photos and scan them so I'll have more images to use for my layouts. Who knows, I might be able to print and bind them one day!
I downloaded the Festival kit from
Shabby Princess
some time ago, but I was only able to get the papers that time. And when I got the elements yesterday, I made sure to use it immediately. As usual, I only get my pictures from FB, which is a very limited source of photos because I don't post everything in there. Anyway, I got this photo from our wedding album (circa 2010) because I haven't created a layout with us during that occasion.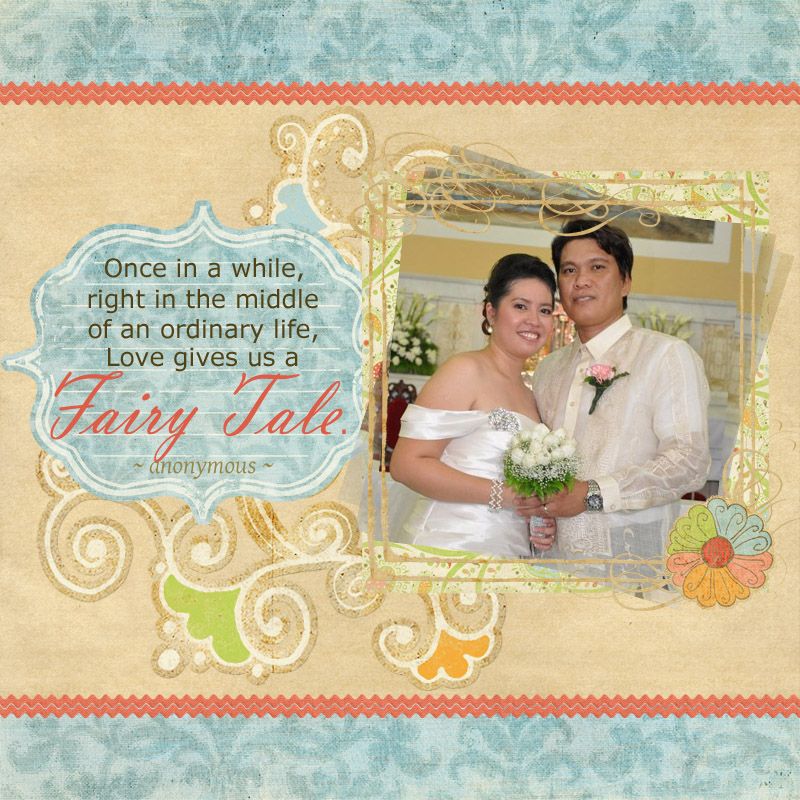 I used only a few elements here. When I was starting with scrapbooking (uhmm...i think I'm still starting until now, but you get my point, right?), I thought I needed to use all the available elements, thus the overdecorated first layouts. haha.
Shabby Princess
, and I can say that they're now very much improved. Next time I do my layouts, I'll make sure to look at the Pro's works because there are a lot of things I can learn from them. Apparently, my color scheme and art skills aren't that good. haha
Here is my nephew (my cousin's son), Ryan. This guy turned one last month and this is one of the photos for his first birthday party, which I missed. hehe

I used the Spontaneous Delight kit for this layout. I initially used the kit for a layout I made for myself, but that one is a very cluttered layout and I can't bring myself to posting it anywhere public anymore. I'll just make a nicer, cleaner one when I have the time.
More on scrapbooking. I tried to pattern my previous layouts from the samples in
Here is Bashful enjoying the cold Baguio weather during our family trip in February this year.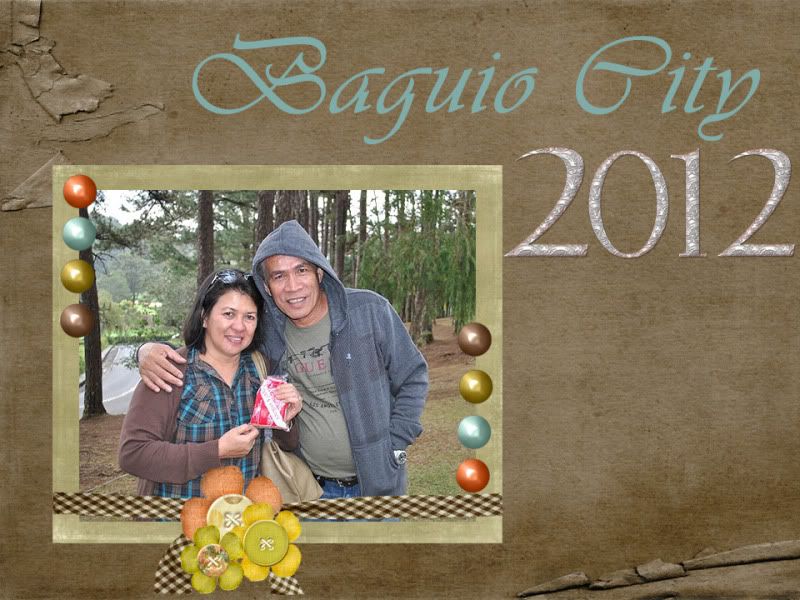 Mama and Papa at Camp John Hay after our lunch at Cantinetta.
This is Mama as Reina del Cielo (Queen of Heaven) during the Flores de Mayo 2012 in Infanta. Ara and I had to take two days off from work to be her assistants and driver (yes me). But it was worth it. Mama has the nicest gown and that came from the people who got to watch the
Prusisyon
. She was very happy about it.
O and I during our Palawan Trip just last month. This was at the Karst Mountain Elephant Cave somewhere in Puerto Princesa. We passed by it on our way to the Underground River.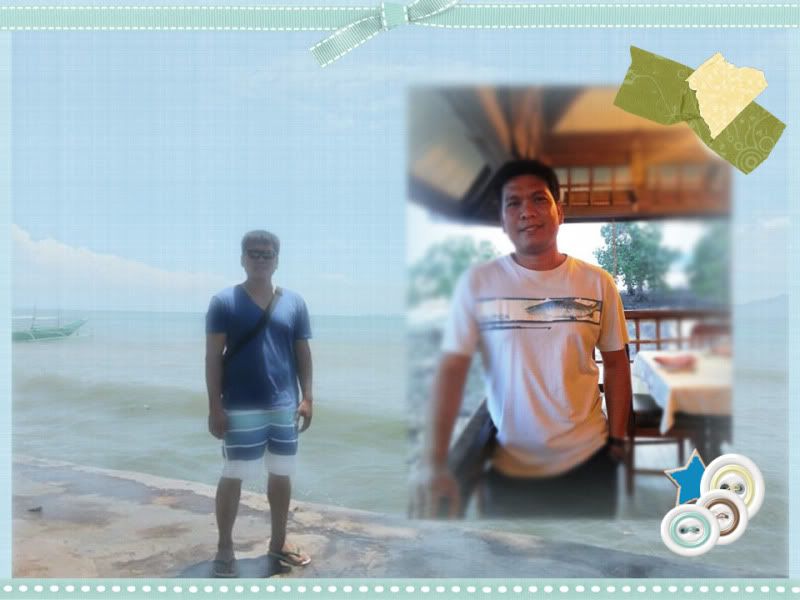 Still from our Palawan Trip. The bigger image is by the West Philippine Sea after our boat ride from the Underground River. The insert is during our second night in Palawan dinner at Badjao Restaurant. This is actually my first layout for O. Kinda difficult to create one for him since all my kits are flowery and all. Looking at it now, the color and ribbons seem more appropriate for a baby boy. LOL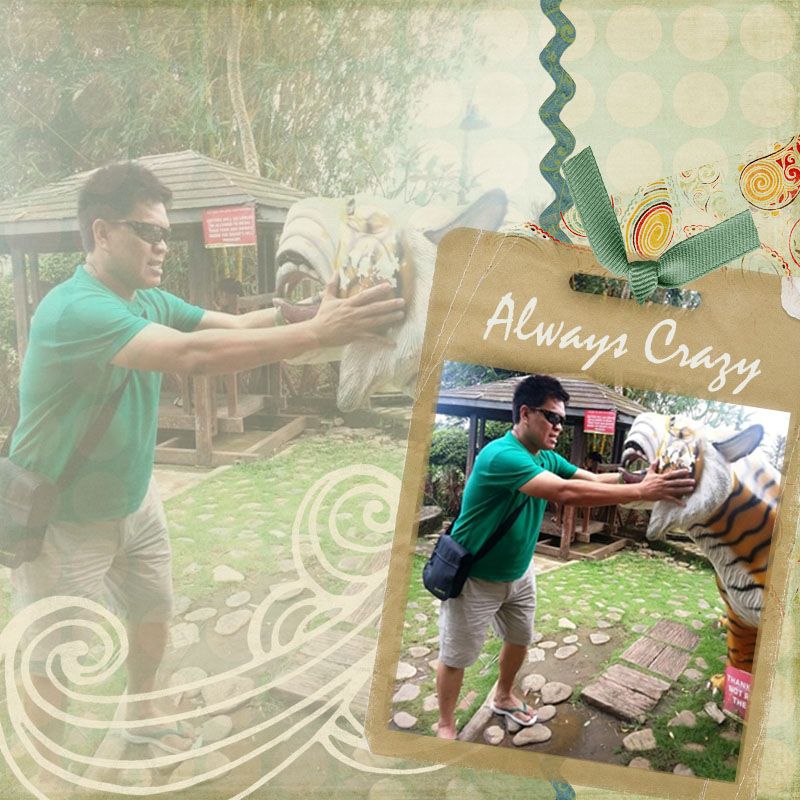 Another Ogie layout and again from our Palawan trip. This was taken at Baker's Hill on our first day at Puerto Princesa.


I wish to post properly soon. My new company (yes, that's for another day) doesn't allow USBs and external hard drives. They don't check and a lot of employees do not follow this rule, but I am somewhat following it, so I couldn't download photos from my phone to my machine. Ohwell. Excuses.
I haven't had the time and will to post entries, but I think this scrapbooking somehow helps me update my blog. I just wanted to share some layouts that I made last week and this week. They also kinda tell where I've been going the past (almost) year.
Because friends have been raving about this latest Revlon Just Bitten Kissable Balm Stain, I couldn't help but try! And I fell in love with it. I got Lovesick Passionnee. It's a bright pink color that can liven up a dull day. Suits me best since I normally just go out with only a hint of cheek stain and no eyeshadow at all. I know, I should use those palettes that I have. Hehe. Maybe some other time.
For now, let me just indulge with this loud pink balm. To tone it down, I'm thinking of mixing it with the pale lippies I have. ♥
Current Mood:

chipper
Janelle
, is really good in it and she keeps encouraging me. So today, I look up some free scrapbooking kits mostly from the ones that Janelle uses (because I'm sure they're malware-free) and tried creating a couple of layouts.
This is my first ever layout. haha. I used the Happy Go Lucky kit here from
Shabby Princess
.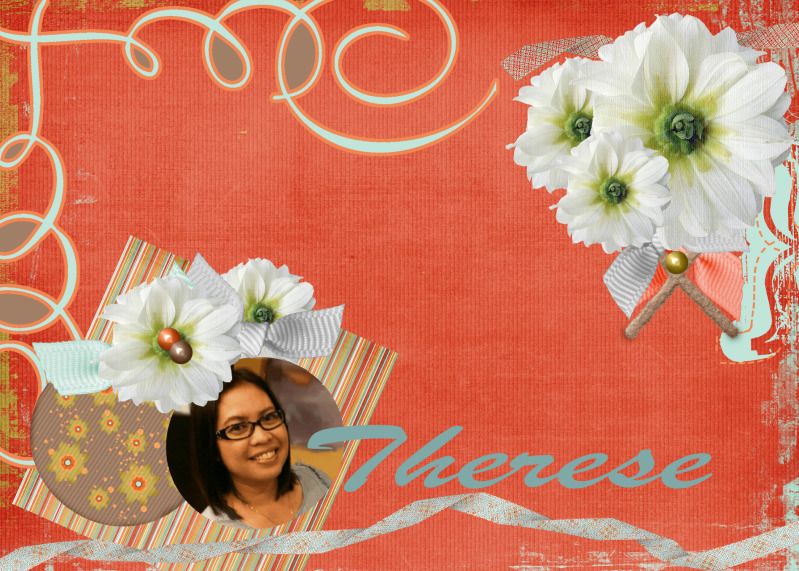 For this layout, I used the Sun Porch Kit from
Shabby Princess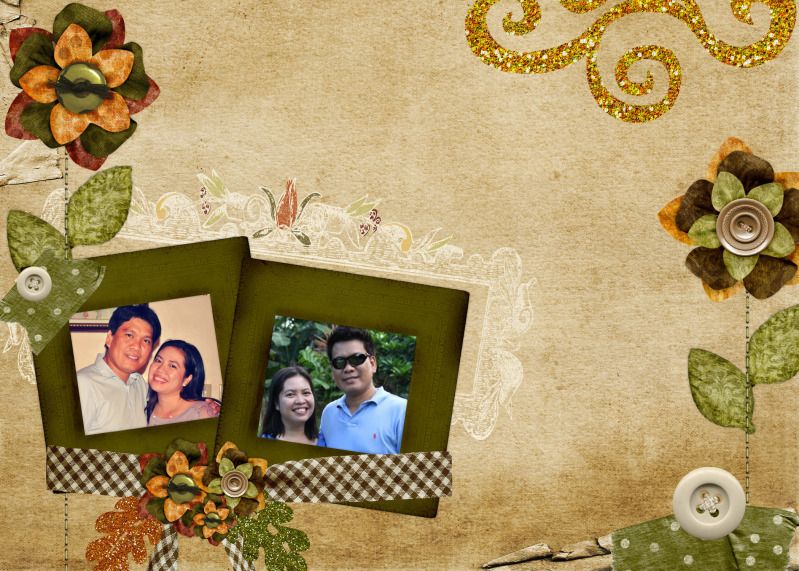 My last and definitely my favorite layout so far - I used the Harvest Spice kit still from
Shabby Princess

I know I owe this blog a lot of posts, and I'll try my best to post some in the coming weeks. Hopefully, work will cooperate. hihi
I've been wanting to learn how to do digital scrapbooking for some time now. My friend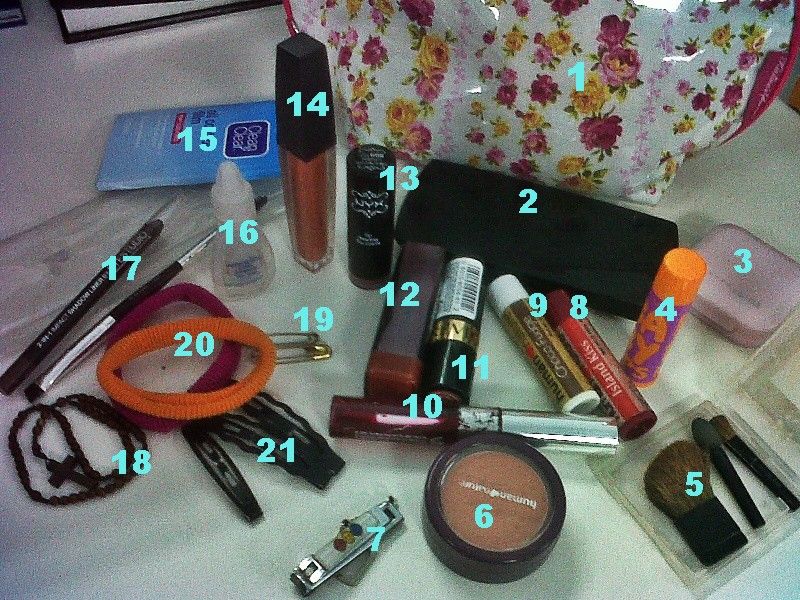 1 - floral kikay pouch; 2 - Revlon Colorstay 2-way foundation in Natural Beige; 3 - Maybelline Shine-Free Cake Powder refill in Natural; 4 - Maybelline Baby Lips Lip Balm in Energizing Orange; 5 - Mary Kay mini brushes; 6 - Human Heart Nature Mineral Blush in Tropical Rose; 7 - small nail clipper; 8 - Human Heart Nature Tinted Lip Balm in Island Kiss; 9 - Human Heart Nature Choco Fudge Lip Balm; 10 - The Body Shop Lip & Cheek Stain; 11 - Revlon Super Lustrous Lipstick in Teak Rose; 12 - CoverGirl Lipstick in Captivate Seduite; 13 - NYX Round Lipstick in Perfect; 14 - The Face Shop Diamond Shine Lip Gloss; 15 - Clean & Clear Oil Control Film; 16 - Visine; 17 - Maybelline 2-in-1 Impact Shadow Liner + Marionnaud eyebrow brush + clear case for my eyebrow stuff; 18 - Rosary; 19 - safety pins; 20 - pony tails; 21 - hair clips
I realized some time ago that I am no make up junkie. I do have a stash at home but since I seldom use them, I thought I need to stop buying and start using what I have. Eyeshadow would be the least make up that I use simply because I have these specs that I cannot live without. I have dry and sensitive eyes that go red all the time. I do enjoy getting new lippies once in a while, like the Covergirl lipstick that Ara gave me for my birthday.
I thought my kikay pouch deserves its own post since it also contains a number of stuff. These are what I have right now and I change them just randomly.